03 Feb

Family Room on a Budget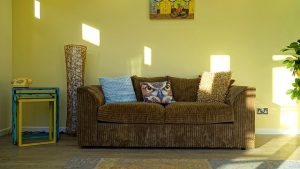 Tired of your old stuffy and drab living room area? Then it's time to update it! But then again you have second thoughts of doing it since you are in a limited budget. Fret not! There is always a solution for things. You can renovate your family room even on a budget or practically even free. Here three are ways to do it.
Rearrange Furniture. This is one of the simplest ways to change your room's perspective. It does not cause you a cent except elbow grease and some sweat. Rearrange it in a way that can encourage conversation and change the flow of the room.
Shop at your own home. Looking for items in your own home is another way to place new bits and pieces on display in your living area. This means that it's time to revisit your attic, basement or garage. You are most likely to find items that may complement your living room's design. Maybe there are some tucked in slipcovers that you can use for your throw pillows. Or, an oil painting can be found in the attic that you can now display near that lack-luster wall that you have. And oh! One more thing, a grandmother's old storage chest might just work as the perfect coffee table. The options are endless. You just have to find out what hidden treasures are there in your home.
Clean and Decrease Clutter. Clutter removes the focal point in your room. Arrange things in a neat way so as to remove the overwhelming details that are given by clutter. If not, it is also best to just remove the things that just add chaos in your living room. Anyway, those things are there to just collect dust. But before you throw things away, it would be suggested to classify the things that are cluttered up in your living room. You can keep, donate and junk some of the items. When throwing out your junk, make use of junk removal services so that things can be done easier. Their services are inexpensive and efficient.
So there you have it, three ways to make new of your living space. It is inexpensive, does not break your wallet and practical.